25th March 2011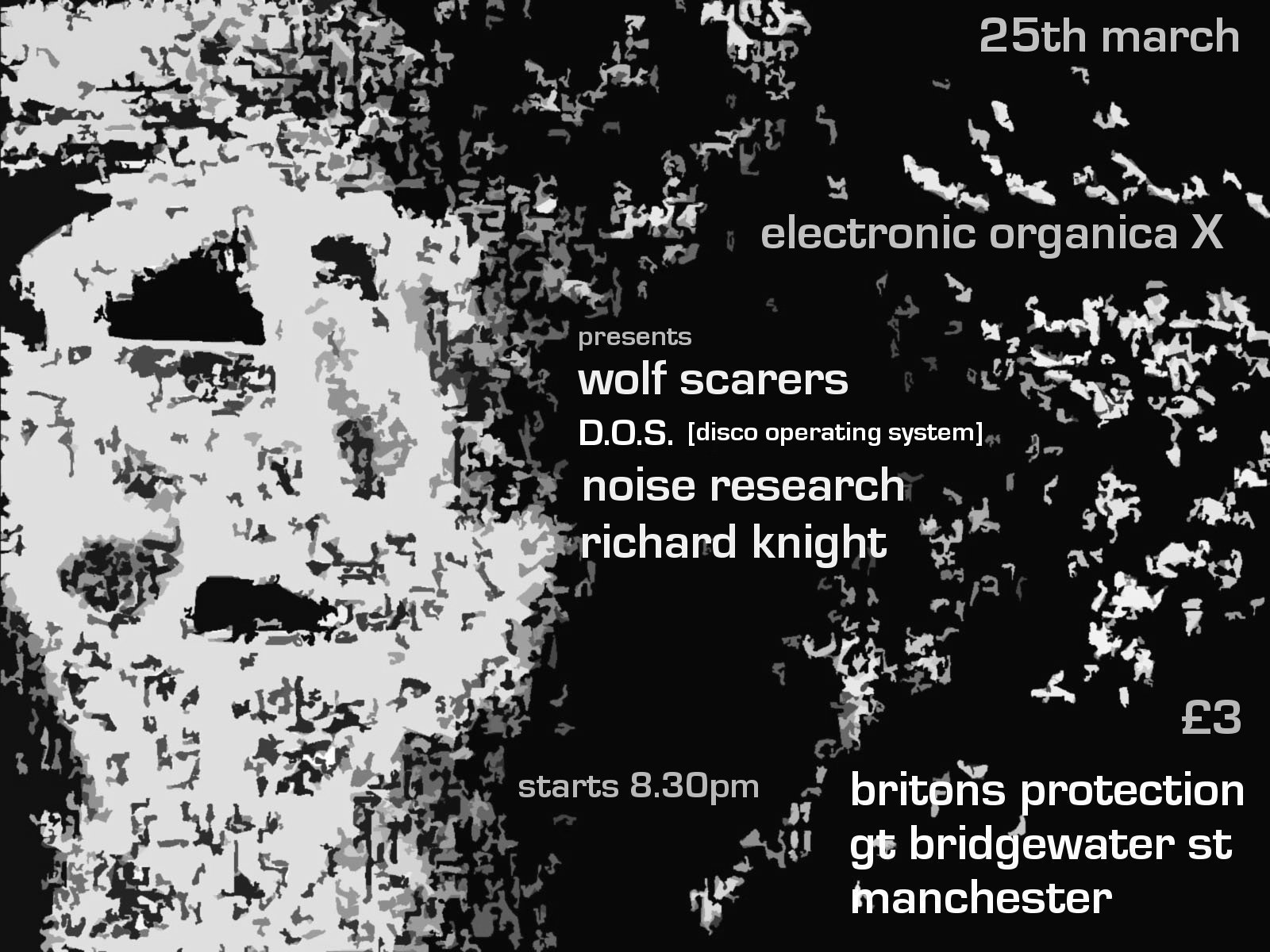 Electronic Organica X - Friday 25th March

from 8.30pm at Briton's Protection - M1 5LE.
Disco Operating System

The Disco Operating System. A misnomer of sorts, an hilarious wordplay derived from the personal computing term "Disc Operating System"; D.O.S. Pertaining, possibly to the musical form "Disco", or possibly not. Safest bet is that the Disco Operating System is not specifically any of the above, but does involve itself with sonic structures often of a cyclical nature, more often than not created with the aid of computing devices, and on less than most occasions involving a rhythmical gesture with a nod to your local 1970's coke palace.

The Disco Operating System is helmed by Gareth Bibby, who takes great glee in creating solid chunks of electronic joy from random patterns of radiophonic detritus and partially melodic undertones.
Wolf Scarers

Wolf Scarers are Simon Prince and Keith Jafrate, both playing tenor saxophones. They've known each other for years but have never played together until, after appearing on the same bill at Huddersfield's Inclusive Improv last year, it occurred to Simon to suggest some duets. So they got together at Oldham Music Centre and disturbed the pigeons in the neighbourhood for a few Fridays, and Wolf Scarers emerged. Both Simon and Keith have played all sorts of music in the past, and you can hear this in their improvisations, that swerve from gentle meditations that almost become chamber music across to full-blown shout-ups in the true tenor tradition, via, possibly, messed-up marching band funk and deconstructed jazz strut. (No computers are harmed in the making of their music.)


Richard Knight + Noise Research

Richard Knight is a sonic/computational artist, usually performing with digital equipment and an emphasis on spectral ambiguity. Knight also utilises mixing desks as sound sources: a typically passive audio device subverted to become an expressive instrument. Output is derived from the tenuous area between feedback and feedforward – the hazy and perplexing cusp between order and chaos.

Noise Research (aka UK sound manipulatist Ian Simpson) has adopted an uncompromising approach in both playing and performance. Simpson's source material comes not from the inside of a physics lab but the natural world: birds shriek and water crashes, processed into something altogether more alien as his hands wander around a table containing what looks like the contents of the world's coolest shed (Cath Aubergine - 2010).