15th December 2012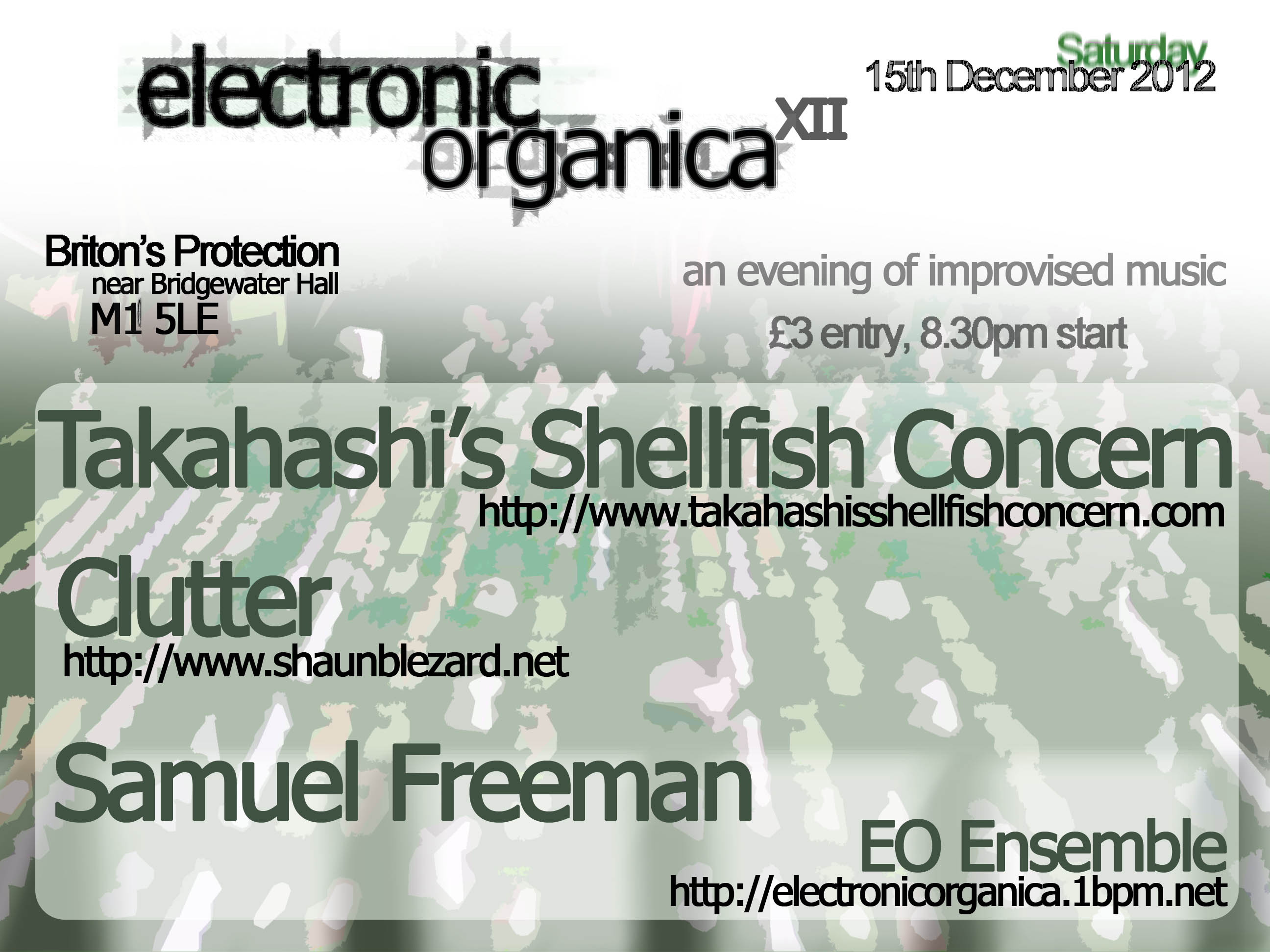 Another one in the occasional series of experimental innovative music nights.

Featuring:

Takahashi's Shellfish Concern
... Clutter / Noise Research
EO Ensemble
Samuel Freeman

DJ - Phil Powell

Manchesters most avant garde music night (Cath Aubergine)

Starts 8.30 pm till late, £3 entrance

Takahashi's Shellfish Concern is Angela Guyton and Rodrigo Constanzo, with Anton Hunter. We try to create moments where the boundaries between visual information and sonic information get muddied. We do this through performance. We do this through improvisation. We are trying to receive and transform information. The result is a feedback loop of interaction between two disciplines and humans, hopefully yielding subtlety, grit, focus and beauty.

Clutter (Shaun Blezard) - Working in the fields of electro-acoustic improvisation, ambient, music concrete and many things between, Clutter's music is made with laptops, iPhones, bass guitar, field recordings, cassettes, radios, fx board, ds, monotron, found sounds, donated sounds and is music of nostalgia and child like wonder. Clutter is at once a jumble of noise and an entirely thought out soundscape. Like a Rubix cube it slowly comes together for the more patient among us. Engage from the start to solve it and stick with it through thick and thin' - Liverpool Daily Post

Noise Research - aka Ian Simpson, uncompromisimg musician / sound artist based in the north west will perform with Clutter as a duo. Noise Research's performance equipment has been described as the 'worlds coolest garden shed'.




Samuel Freeman is an experimental music technologist and composer who makes things to make sound with. He has been performing live music with laptop based instruments since 2005, is active in the HELOpg ensemble, and is currently completing a PhD at the University of Huddersfield ("Exploring the creative potential of an alternative approach to the visual representation of sound in computer music software: theory, programming, and composition"). At Electronic Organica XII, Sam will be making noise with shapes on screen, as you will see...